Pick Your Own Pumpkins at Wichita's Favorite Pumpkin Patch!
warty little red things
" on them!
You pay for the pumpkins you choose by size and variety.
Ride our haywagon out to the Pumpkin Patch to pick your very own—one for mom, one for dad, and wait an see which of the kids picks a round one and who wants that tall spooky one with the twisted stem.
All varieties grow on the vine in our patch and are waiting for you to come and pick them off the plant! We have all sorts of pumpkins, gourds, and squash to choose from!
More than Pumpkins, It's Pure Fun!
You'll need a Pumpkin Patch General Admission ticket to enter the pumpkin patch, and boy, will you be glad you came. Included in the General Admission:
Culvert Swing
Graveyard Golf
Woodlands Play Area
Two Giant Jumping Pillows
Corn Maze
Hayride to the Pumpkin Patch
Photo Op in Cinderella's Carriage
Jump a Roos
Tic Tac Toe/Checker Boards
Spookley Story Boards
"No Left Turn" Maze
Tree House Play Area
Pedal Cars
O'Play Corral and Stockades
O'Play Barn
PumpGun Cannon (Shot by an employee)
Farm Lake Dock & Paddle Boats
Bag Swing Over the Creek
Mountain Boo Underground Slide
Straw Bales to Climb & Jump
Tug of War
Human Gerbil Wheel
Carroll's Corn Crib
Picnic Area and the Pavilion
Changing Stations in Restrooms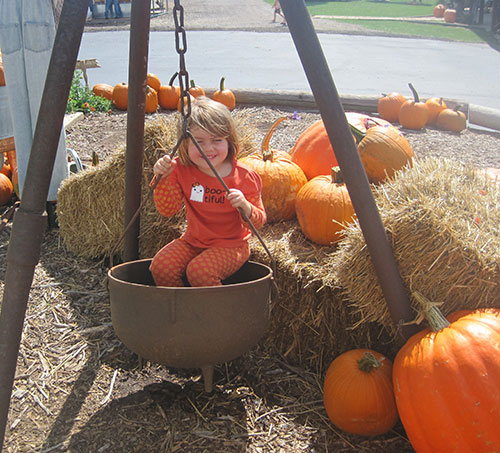 Please plan to come and spend a relaxing and fun day with us. We have plenty of your favorite foods, tables, shade, and cool refreshments. The farm is located only 30 minutes northeast of Wichita, on Highway 77 just north of El Dorado.
Also, be sure to allow time to browse our great Gift Shop, with lots of seasonal decorations, country gifts, and our own brand of Pumpkin Salsa.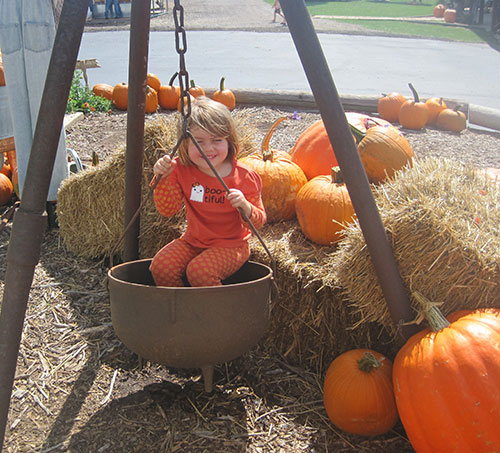 Farm Fresh Produce
Walters' Farm also features pick-your-own gourds and squash! Hop aboard our wagon for the adventure of picking more healthy favorites!
Don't have the time to find it yourself?
Not a problem! Stop by the gift barn to find pre-picked pumpkins, gourds, acorn squash, spaghetti squash, butternut squash, and more!
Stop by for farm fresh, pre-picked peaches and apples as well! All fresh produce available seasonally.