Walters' Pumpkin Patch- Wichita's Favorite!
Upcoming Events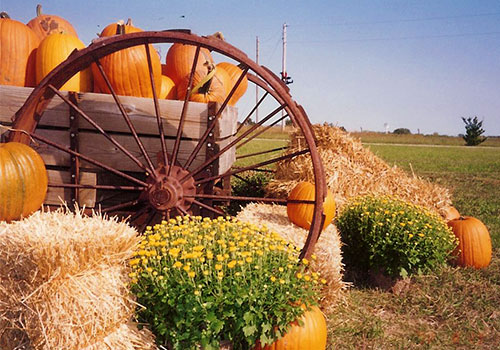 There are always great ways to have fun at Walters' Pumpkin Patch, romping on the mountains and playground, paddle boats, enjoying special events, or just spending a casual day on the walking trail, petting the animals, having some great pumpkin soup or a hot dog, or browsing through our unique gift shop.
FALL MERCHANDISE SALE!
Sept 1-3, 2017 & 8-10, 2017
Come see our shops full of fall merchandise all on sale for 40% off! There is no admission on these 6 days, and the attractions are closed....but if you're looking for the best in fall decorating items, come see us before we open for the season! (No pumpkins or gourds included in this sale; however we might have some produce such as tomatoes, peppers, squash, etc)
PUMPKINFEST 2017 OPENING DAY
September 16, 2017
Enjoy the half price admission Saturday the 16th and Sunday, the 17th! Enjoy our new attractions: New pumpkin house, more admission windows so the wait lines magically disappear, pumpkin cannons for visitors of all ages to shoot, new addition to the crow's nest tree house, new games, new wooden playhouse structure, and so much more! (No other coupons can be accepted this weekend)
Half-Price Admission this Weekend
Sept 16 & 17, 2017
Let's kick off Pumpkinfest 2017 with half price admission! This weekend only!
Goblin Egg Hunt & Games
Sept 30 & Oct 1 , 2017
The ghosts and goblins have been hiding the goblin egg gourds and it's time to come find them at the Walters Pumpkin Patch. Bring your baskets and see what you can find hiding around the farm. Hunts will be held at 11am on Saturday; 2:00pm on Sunday. Come early to get the best eggs.(Limit 10 eggs per child which can be traded for a pie sized pumpkin). Other games will be added such as a pumpkin seed spitting contest! No slimy pumpkin seeds either! Check back for the possibility of an "adult egg hunt" on Saturday, Oct 14th!
Face Painting
Oct 7 & 8th, 2017
Our face painter deluxe will dazzle young and old with her talents and a paint brush full of paint! You can "be" anyone you want to be! **additional pricing for this attraction.
Monarch Watch
September 16-October 15
This is the prime migration time for the Monarch Butterflies to come through the Walters' Pumpkin Patch. Our trees through the Pumpkinland Game or around the giant pumpkin field will be covered with the site of the orange and black beauties. Make this event a part of your annual trip to the Patch.
Wood Carvers
Oct 14 & 15, 2017
These two men will amaze and dazzle you with their carving talents on wood with chain saws and other carving equipment! Come see and experience their creations and talents!
All You Can Carry
Oct 21nd & 22rd, 2017
We have people waiting all season for this one special weekend when you can carry home all you can carry from the patch! Get creative and see how much one body can hold!
Costume Contests for All Ages
Oct 28 & 29, 2017
This is the last weekend of the season and we're closing with a Costume Contest! Put on your best, your funniest, your creative-most costume and come on out for our contest! Prizes will be awarded for best in category and/or age group!
Closing for the season of the Walters Pumpkin Patch
Oct 31, 2017
This is our last day of PUMPKINFEST 2017.
Please Come Back Often!
Thank you again for your interest in the Walters' Pumpkin Patch and the Walters Farm!
We spend all winter dreaming up new activities and treats for your enjoyment, so that every year is a memorable experience for you and your family!
Check back often for new events that will be added to our fall activities list.